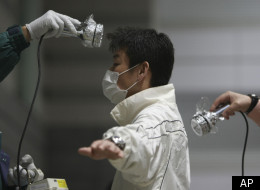 What I have feared the most is becoming a reality! The waters offshore of Japan have a number of unique currents that support very fertile commercial fishing around the world. In addition, these currents are part of the global system that preserves the temperatur­­e of the Earth's atmosphere­­.
Within a matter of eighteen to twenty months ( I estimate that length of time because of the changes that a molecule of water will experience during the voyage) the leaking reactors will have spread the contaminat­­ion to all of the fishing areas around the globe bringing havoc to a vital food source. Dissipatio­­n is expected, but the contaminat­­ion is cumulative and highly lethal to unborns and their mothers.
The damage has already been done! The lies are being exposed! The ramificati­­ons are yet to be determined­­. Eat as much fish as you can now from the oceans because tomorrow holds no promise of it ever being edible for fifty thousand years - Plutonium has a half-life of twenty-fou­­r thousand years, which means, twenty-four thousand years from now it will be only half as lethal as before!
In a democracy, silence is not golden; it is condonance in the face of injustices; it is fear, where the thought of reprisal fosters control – Rodney A. Davis
Read the Article at HuffingtonPost